Principal's Message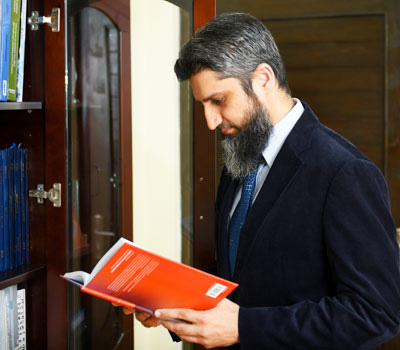 The recent advancement in Electrical Engineering and Computing has transformed our lives tremendously. The way we communicate and commute, our health and environment, what we eat and how we live is all one way or the other linked to Electrical Engineering and Computing technologies. As Principal and Dean of NUST's School of Electrical Engineering and Computer Science (SEECS), I feel quite honored to lead one of NUST's largest and most illustrious schools.
Located in the heart of the capital city of Islamabad, NUST is one of the leading engineering universities of Pakistan. The Electrical Engineering and Computing programs, offered at NUST SEECS, have been ranked among the top 300 in the world by the QS rankings. The contribution of our faculty in the domains of telecommunications, IoTs,  machine learning, image processing, speech recognition, control systems, formal methods, e-health, are particularly commendable. We have established numerous research collaborations all across the globe and thus our students often get the opportunity to work with well-known scientists of the world. We regularly offer industry placements and visits, academic exchange visits, and various co-curricular opportunities to our students. Our alumni, eminent researchers and industry experts are regularly engaged to provide workshops to our students on various topics ranging from communication skills, emotional intelligence, entrepreneurship to leadership, to equip our students with the professional skills that shape up their careers. We actively reach out to underrepresented communities of the country in technology, and are actively involved in harvesting a culture of equity and inclusion in all that we do.
My vision is to further enhance the learning experience of our students, faculty, staff, and alumni with the objective of bringing a positive transformation in our society and thus the world. In this regard, my main goals are:
To become an institution of choice for students and employers by introducing student-centric learning and high quality academic programs.

To raise the level of research by focusing on quality rather than quantity and intriguing the quest for solving real-world problems and thus cultivating entrepreneurial culture.

To foster collaborations both at the national and international level to benefit from the complementary strengths of the partners as well as to in still awareness of cultural diversity.

To build the character of our students, faculty and staff by raising awareness of ethical practices and our social responsibilities and through engagement in community service.

To enhance the experience of our students, faculty and staff by providing a respectful and equal opportunity environment and efficient administrative processes streamlined through the integration of technology and digitization.
Please explore our website to learn more about us, our academics and research activities. I also invite you to physically visit our beautiful campus, engage with our community and play your role with us in defining futures.
Dr Osman Hasan
Principal and Dean
NUST School of Electrical Engineering and Computer Science (SEECS)